We cannot get materials to produce anything for stock. But if you are interested in a custom order of any big bore ammunition, please call 920-897-4012 to work out the details.
If you can supply the brass, we might be able to get the rest of the necessary materials and load the rounds to your specifications. Please contact us for more information.
Sorry for any inconvenience. Thank you for your patience.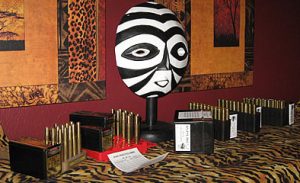 Practice, Intermediate, and High Velocity Ammunition
Nyati Inc is now producing Intermediate Velocity and Full Load High Velocity rounds using the same processes as our original Low Recoil Ammunition.

Practice with the Low Recoil rounds until you feel mastery with your rifle, then use it with Intermediate power rounds for typical hunting.

When you are facing off with Dangerous Game, have our Full Load High Velocity rounds chambered.

All Calibers Showing Low Velocity Specs. Click to choose your caliber.