Nyati Big Bore, Low Recoil Practice Ammo
By the Guns and Shooting Online Staff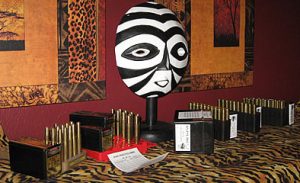 The Nyati, Inc. (www.nyatiinc.com) mission is to create low recoil, big bore practice ammo to allow owners of safari rifles to practice in relative comfort. Nyati further attempts to keep the point of impact of their practice ammo in the same ballpark as full power loads at 50 yards.
Note that this is not inexpensive ammunition; it is loaded with first class components, the same as full power premium ammo, but with reduced velocity powder charges at a MAP of approximately 38,000 psi. Our Nyati test ammunition used Hornady brass, Barnes bullets and Accurate Arms powder. The bullet tips are painted black to avoid confusion with full power ammunition. Factory loaded Nyati cartridges are packaged in plastic cartridge boxes holding 10 or 20 rounds.
Nyati offers reduced power loads for calibers .375 H&H Magnum (300 grain bullet at 1300 fps), .416 Rigby (400 grain bullet at 1300 fps), .458 Winchester Magnum (500 grain bullet at 1100 fps) and .458 Lott (500 grain bullet at 1100 fps). Reduced recoil loads for calibers .375 Weatherby, .378 Weatherby, .416 Weatherby and .460 Weatherby are under development. Here are the recoil energy and velocity figures for the currently produced Nyati loads:
.375 H&H – 8 ft. lbs., 8 fps
.416 Rigby – 12 ft. lbs., 9 fps
.458 Win. – 11 ft. lbs., 8 fps
.458 Lott – 11 ft. lbs., 8 fps
Compared to the 47 to 75 ft. lb. recoil energy of full power loads for these cartridges, the Nyati ammunition is indeed pleasant to shoot. To verify that for ourselves, we requested some Nyati .458 Win. Magnum ammunition for this review. (Some of our staff members own .458 rifles in which we could test the Nyati cartridges.)
With a 20 round box of Nyati ammo in hand, we trekked to the Izaak Walton outdoor range south of Eugene, Oregon to use their 50 yard range and bench rests. The test rifle was a FN/Browning Safari Grade .458 manufactured around 1963 and fitted with a Leupold Vari-X II 1-4x20mm scope. This fine rifle has "been there and done that," but remains very accurate, capable of shooting one MOA groups at 100 yards. It is zeroed to hit one inch high at 100 yards using a handload that drives a 400 grain Swift A-Frame bullet at a MV of 2050 fps.
Guns and Shooting Online staff members Chuck Hawks, Jim Fleck and Nathan Rauzon did the test firing at slow fire pistol targets, shooting two three-shot groups each at 50 yards over a sandbag rest, for a total of 18 rounds. Here are the results:
Nyati .458 Win., 500 grain
smallest group 5/8″
largest group 1-7/8″
mean average group 1.26″
As you can see, our Browning test rifle shot just fine with the Nyati reduced recoil ammunition. The point of impact for all three shooters was about 4″ to 4.5″ above the point of aim and perhaps 1″ to the right. We had no trouble keeping the bullets on the paper. Your point of impact will vary, depending on your rifle, the load for which it is zeroed and how it is sighted-in.
Having two cartridges left from our box of 20, Chuck and Nate each fired a single round offhand to experience the recoil as it might feel in the field. (Usually less recoil is perceived when shooting from a standing position than when shooting from a bench rest.) Both agreed that this is a mild load that is pleasant to shoot. Unfortunately, at over $5.00 per shot ($103.00 for a box of 20 at the time of this review), Nyati cartridges are probably too expensive for most shooters to plink with, although it would be fun.
Loaded with an expanding bullet, such as the Speer 400 grain FNSP .45-70 bullet at .45-70 velocities that Chuck uses in his .458 Magnum reduced recoil handloads, it would be entirely practical to hunt woodland deer with any of the Nyati calibers. (See the articles "Reduced Recoil Reloads" and "Compared: The .45-70 Government and .458 Winchester Magnum for North American and European Hunting" for more information.) We would like to see Nyati introduce reduced recoil hunting loads using expanding bullets for these big boomers.
We think, based on our limited experience, that Nyati is loading good ammunition and have a useful product that can be of great benefit to the owners of safari rifles. If they could bring the price down to approximate that of standard Winchester Super-X or Remington Express factory loads in these calibers, we think they could have a real impact on the market. Nyati ammunition may be purchased online at the Nyati web site: https://nyatiinc.com/
See original article at http://www.chuckhawks.com/nyati_ammo.htm